COVID updates, April 29: Quebec will probably end mask mandate May 14, with final decision next week, Boileau says
Sixth wave: "The peak is in all probability behind us."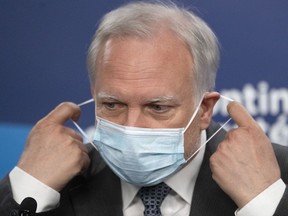 Article content
Updated throughout the day on Thursday, April 28. Questions/comments: [email protected]
Article content
---
Top updates
Moderna applies for U.S. clearance of COVID shot for children younger than six
Quebec will probably end mask mandate May 14, with final decision next week, Boileau says
Moderna's promised vaccine production facility to be built in Montreal area
Quebec will lift mask mandate May 14 if situation continues to improve
Do air purifiers work? Everything you need to know according to experts
Passengers on Montreal-Cancun party flight fined total of $59,500
Decline in hospitalizations continues as Quebec reports 23 more deaths
Nearly 1,000 Canadian Armed Forces members denied vaccine exemptions
After pausing for two years, Comiccon and fireworks competition return to Montreal this summer
Mastercard sees spending soar as COVID restrictions ease
COVID-19 reinfections are rising — here's why
Quebec COVID guide: Vaccinations, testing
Article content
---
4:15 p.m.
Thanks for reading
I'll be back tomorrow with another live blog.
In the meantime, you can follow all our coverage via the coronavirus page.
My previous COVID-19 live blogs are available here.
---
3:30 p.m.
Moderna applies for U.S. clearance of COVID shot for children younger than six
Moderna has applied for emergency use authorization for its COVID-19 vaccine in children from six months to under 6 years old after a successful trial showed two doses generate high levels of antibodies to the virus.
Read our full story.
---
3:10 p.m.
Quebec will probably end mask mandate May 14, with final decision next week, Boileau says
The epidemiological situation is improving but Quebec will only determine early next week whether it will lift its mask mandate on May 14.
Article content
"The final decision will be taken early next week," Dr. Luc Boileau, the province's interim public health director, told a press conference Thursday.
He added: "Right now, we don't see anything that could derail" the intention to recommend the mask mandate be lifted on the 14th.
"We think that by the beginning of next week we should be comfortable enough to suggest that the government (remove) the obligation of wearing a mask in public places."
Boileau said that even when the broad mandate is lifted, masks would still be required on public transit and in health care institutions and long-term care homes.
Quebec's public health department will continue to recommend that people wear masks in public places.
Boileau said "there's good news" on the pandemic situation in Quebec.
Article content
He said several indicators show the situation is improving among the general population as well as among vulnerable populations such as older people.
New hospitalizations are expected to continue to drop over the next two weeks, Boileau added.
"The sixth wave is on the way to being controlled and the peak is in all probability behind us," he said.
However, many cases are still being reported daily, proof that "the pandemic is not over," Boileau added.
He noted that some people are being reinfected soon after recovering from a previous infection with a different variant.
A reporter asked Boileau whether he envisages reinstating the mask mandate in the event of a seventh wave of COVID in the fall.
In response, Boileau said his department could recommend to the government that masks be made mandatory again if "an emergency situation" warrants such a move.
Article content
He added: "We essentially do not know what's going to happen in the future. Will there be another variant that will be very dangerous, that will be worse than the one that we are experiencing right now? We simply do not know."
Boileau said his department "does not wish to" make masks mandatory again once the current mandate is removed.
Instead, he said he would prefer to recommend masks and allow people to "evaluate their own risk and see if they wish" to wear face coverings.
Article content
---
1:45 p.m.
Moderna's promised vaccine production facility to be built in Montreal area
American vaccine maker Moderna will announce Friday it intends to build its promised Canadian production facility in the Montreal area.
A source with knowledge of the announcement confirms the deal, which comes almost nine months after Moderna CEO Stephane Bancel signed an agreement with the Canadian government to bring such a factory to Canada.
Read our full story.
---
1:30 p.m.
Italy extends mask wearing for some indoor venues until mid-June
From the Reuters news agency:
Face masks will remain compulsory in Italy on public transport and in some indoor venues until June 15, the health minister said on Thursday, as one of the country's hardest hit by COVIDdelayed an end to pandemic restrictions.
Article content
Masks will still be required to access cinemas, theatres and indoor events and to enter hospitals, Health Minister Roberto Speranza said, adding that the government intends to be cautious in lifting the remaining measures.
"We have decided to keep in place for a while, at least until June 15, an element of caution that I believe is necessary," Speranza said at an event organized by a medical doctors' union.
The government had previously announced that health certificates proving vaccination or recent recovery from coronavirus would no longer be needed to gain access to a vast array of services, including restaurants, gyms and public transport, from May 1.
Italy was the first Western nation hit by the disease and it has so far registered 163,244 deaths, the eighth highest tally in the world.
Article content
It saw infections decline in the first half of April but according to a report by Italian think-tank Gimbe COVID-19 cases picked up again in recent days.
---
1:10 p.m.
Quebec will lift mask mandate May 14 if situation continues to improve
If the epidemiological situation continues to improve, Quebec plans to lift its broad mask mandate on May 14, the Montreal Gazette has learned.
Masks would still be required on public transit, in health care institutions and for people who have tested positive for COVID.
Quebec's public health department will continue to encourage people to wear masks in public places.
Dr. Luc Boileau, Quebec's interim director of public health, is scheduled to hold a press conference at 2 p.m. I'll have live coverage and a video feed.
Article content
Quebec initially planned to dump mandatory mask rules in mid-April but delayed the change due to a rise in hospitalizations and the arrival of an unexpectedly late flu season.
The sixth wave appears to be waning in Quebec.
In a sign that the worst of the sixth wave is over, a provincial government health-care research institute yesterday said it expects the rise in hospitalizations will slow down over the next two weeks.
Quebec is one of the last jurisdictions in North America to require masks in all indoor public places.
---
12:20 p.m.
Do air purifiers work? Everything you need to know according to experts
If you hadn't considered the air quality you breathe, at work or at home, the pandemic might have changed that. And for many Canadians, who now work at home, it makes sense to clear the air.
Article content
Read our full story.
---
12:20 p.m.
CRA seizes $500,000 from man over COVID rent subsidies for properties they don't believe he actually leased
The Canada Revenue Agency is clawing back nearly $500,000 in potentially fraudulent COVID-19 rent subsidy payments from an Ontario man who claimed the money on four leased properties landlords say he never actually rented.
Read our full story.
---
12:15 p.m.
Pandemic phase isn't over, Boileau says
Article content
---
11:20 a.m.
Passengers on Montreal-Cancun party flight fined total of $59,500
Transport Canada says it has issued a total of 42 penalties to 37 of the 154 passengers on a rowdy Montreal flight to Cancun that sparked international headlines and outrage after video emerged of passengers partying and flouting public health rules.
The federal agency said it issued 18 fines for "non-compliance of vaccination status," and 24 fines for not respecting instructions to wear a mask.
The total value of the penalties is $59,500.
"With this investigation, we want to send a clear message: the behaviour of some passengers on the Montréal-Cancun flight of December 30 was unacceptable, and (was) not tolerated," said Transport Minister Omar Alghabra.
Article content
Images from the Dec. 30 Sunwing Airlines flight showed passengers not wearing masks, ignoring social distancing rules and dancing in the aircraft's aisles and passenger seats. Other images showed passengers vaping, drinking vodka from a full-sized bottle and taking selfies.
---
11:15 a.m.
Chart: Current situation vs. one year ago
---
11:15 a.m.
Charts: Quebec cases, deaths
---
11:15 a.m.
Charts: Quebec's vaccination campaign
---
11:05 a.m.
Decline in hospitalizations continues as Quebec reports 23 more deaths
Quebec has recorded 1,768 new cases of COVID-19, the provincial government announced this morning.
The case tally only includes people who received PCR tests at government screening clinics. It does not accurately reflect the number of cases since it does not include the results of home rapid tests.
Article content
In addition, 23 new deaths were reported, bringing the cumulative total to 14,951.
The decline in hospitalizations continues. The number of COVID-positive patients in Quebec hospitals is now at its lowest point in nine days.
Some other key statistics from Quebec's latest COVID-19 update:
Montreal Island: 388 cases, zero deaths.
Net decrease in hospitalizations: 46, for total of 2,326 (191 entered hospital, 237 discharged).
Net decrease in intensive care patients: 7, for total of 85 (11 entered ICUs, 18 discharged).
19,286 PCR tests conducted Tuesday.
31,995 vaccine doses administered over previous 24 hours.
---
10:50 a.m.
Nearly 1,000 Canadian Armed Forces members denied COVID-19 vaccine exemptions
The Canadian military says nearly 1,000 members have been denied exemptions from the military's COVID-19 vaccine requirement, The Canadian Press reports.
Article content
Vice-chief of the defence staff Lt.-Gen. Frances Allen says more than 1,300 members of the Canadian Armed Forces requested exemptions for medical or religious reasons.
Allen says only 158 of those requests have been approved, while about the same number of requests are still being assessed.
Chief of the defence staff Gen. Wayne Eyre ordered all military personnel to be fully vaccinated against COVID-19 by mid-December last year.
The Defence Department reports more than 98 per cent of Canadian troops have been vaccinated, but hundreds of others did not get their shots.
The Defence Department said last week that 39 unvaccinated troops were forced to leave the military while another 206 are in the process of being kicked out.
Article content
---
10:40 a.m.
After pausing for two years, Comiccon and fireworks competition return to Montreal this summer
Two popular Montreal events are returning this summer after two-year pandemic hiatuses.
La Ronde this morning announced that it will present the International des Feux Loto-Québec fireworks competition from June 25 to Aug. 6.
"After a two-year hiatus, Montreal's sky will light up with outstanding fireworks display by some of the greatest pyrotechnic artists in the world," organizers said in a press release.
The event will open Saturday, June 25, with a show called Je me souviens, featuring songs by Quebec artists. In an event first, the opening show will include a drone light show prior to the fireworks display.
Article content
Montreal Comiccon also returns this summer, with a three-day event (July 8 to July 10) at the Palais des congrès that will feature Jessie Usher, Dave Foley, James Marsters and others.
Colleague Brendan Kelly spoke to organizers about what to expect at the comic-book, sci-fi and fantasy fan convention.
---
10:10 a.m.
Typo: Changes coming to P.E.I. entry rules
Article content
---
10 a.m.
Mastercard sees spending soar as COVID restrictions ease
From the Bloomberg news agency:
Mastercard says spending on its cards soared in the first quarter as consumers clamoured to get back on the road and take to the skies.
Even as the omicron variant roared in the early days of the year, overall spending on the company's cards jumped 22 per cent to US$1.52 trillion, in line with the average of analyst estimates compiled by Bloomberg. Overseas spending climbed 53 per cent.
"As of March, cross-border travel is above 2019 levels for the first time since the pandemic began, and ahead of our expectations," Chief Executive Officer Michael Miebach said in a statement Thursday. "We're off to a strong start in 2022."
Article content
Governments around the world have been lifting travel restrictions, prompting consumers to get back to flying and dining out, a boon for Mastercard and its rivals. Visa Inc. shares surged after the company said Tuesday that purchase volumes climbed 17 per cent in its fiscal second quarter, which ended March 31.
---
9:50 a.m.
Quebec could lift mask mandate on May 14, reports say
Quebec may lift the mask mandate for public places on May 14, Radio-Canada and TVA Nouvelles are reporting.
After initially saying the decision was final, both networks are now hedging.
Article content
---
9:45 a.m.
COVID-19 reinfections are rising — here's why
A growing number of COVID-19 reinfections have been reported in Quebec during the fifth and sixth waves, leading many to wonder — what is going on with our immunity?
Read our full story, by Katelyn Thomas.
---
9:45 a.m.
You're (un)invited: 'Unwelcoming Party' planned in response to 'Rolling Thunder' rally
Still reeling from the weeks-long "Freedom Convoy" occupation that brought the city's downtown core to a standstill earlier this year, anxious Ottawa residents say they want participants of this coming weekend's biker rally to know they are not welcome.
Read our full story.
---
9:15 a.m.
Quebec COVID guide: Vaccinations, testing
Vaccinations
Article content
Testing
---
8:30 a.m.
Sign up for our free nightly coronavirus newsletter
Stay informed with our daily email newsletter focused on local coronavirus coverage and other essential news, delivered directly to your email inbox by 7 p.m. on weekdays.
You can sign up here.
---
Read my previous live blogs here.
---
Worst of sixth wave may be over in Quebec, with hospitalizations expected to drop

Hospitalizations rise as Quebec approaches grim milestone – 15,000 deaths

Six weeks into 6th wave, hospitalizations are falling in Quebec

Canada not ready to lift mask mandate on planes, Tam says

Quebec extends mask mandate for public places, transit until mid-May

link